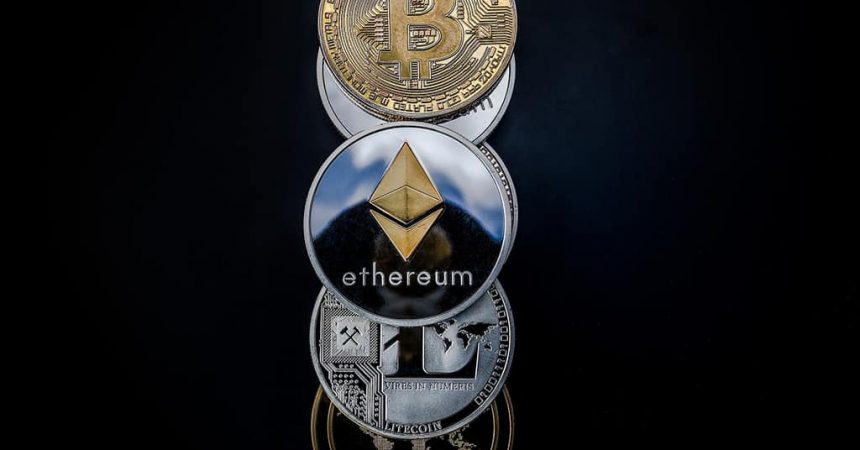 A detailed cryptocurrency broker comparison is now available on our broker review web site. With the massive rises in cryptocurrency prices at the end of 2017 and the subsequent crypto bear mark throughout all of 2018, cryptocurrency trading Australia has received much more interest and press. The comparison provided by Online Brokers Australia focuses on Australian regulated broker who also has a cryptocurrency CFD offering.
CFD crypto trading is where a contract for difference offered on a cryptocurrency such as Bitcoin, Ethereum, Ripple and more. This should not be confused with buying cryptocurrencies direct from an exchange. As with all CFDs, you do not own the underlying asset (crypto in this case). However, you are trading the price change of the crypto instead. For example, if you purchased a bitcoin CFD from any bitcoin CFD brokers, you will not own the bitcoin itself but enables you to speculate on the rising or falling prices of bitcoin, or any other cryptocurrency your broker offers CFDs on.
It is important to realise this key difference between a Forex or CFD brokerage firm offering cryptocurrency CFDs compared to a Crypto Exchange.

Cryptocurrency Broker Australia
The comparisons provided are not simply a bitcoin brokers list! We have instead listed 5 of the leading forex and CFD brokers who now offer cryptocurrency CFD as part of their product range. We have then created a comparison showing which of the following popular cryptocurrencies each broker has a contract for difference on.
Bitcoin (BTC)
Dash (DASH)
EOS (EOS)
Ethereum (ETH)
IOTA ( MIOTA)
Litecoin (LTC)
Monero (XMR)
NEO (NEO)
Ripple (XRP)
Stellar (XLM)
For cfd crypto trading enthusiasts it is crucial to know which cryptocurrency brokers offer the most cryptocurrencies to trade.
Our cryptocurrency CFD Spreads comparison table is a great way to quickly see the spreads charged by 5 of the top cryptocurrency brokers in Australia
For more information and all the comparisons listed above, please view our cryptocurrency broker comparison page located at
https://www.onlinebrokersaustralia.com.au/cryptocurrency-broker/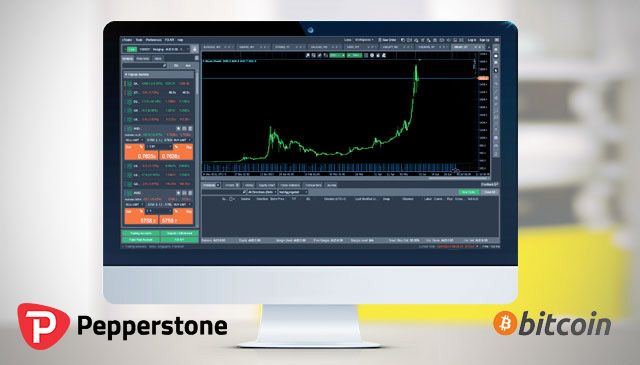 Pepperstone is proud to announce their first addition of cryptocurrency to their offerings. From July 2017 Bitcoin can now be traded at Pepperstone Forex broker. Pepperstone Bitcoin trading is offered as an instrument against the US dollar (code "BTC/USD" in Pepperstone's trading platforms).
Cryptocurrency is often referred to as the money of the future and it's global popularity is certainly being displayed in the current BTC USD price chart, however please remember that past performance does not guarantee the future performance of any financial instrument, Bitcoin included!
What is Cryptocurrency?
A cryptocurrency is essentially digital money (digital currency) used as a medium of payment or exchange and protected using cryptography to control the creation of additional units of the currency and secure the transfer transactions. Source: Wikipedia – Cryptocurrency
What is Bitcoin?
Satoshi Nakamoto is the inventor of the first, and currently most well-known cryptocurrency called Bitcoin (BTC). Bitcoin became the first decentralized cryptocurrency (a decentralized digital cash system) in 2009, and since this time many alternative cryptocurrencies to Bitcoin have been created, and are commonly referred to as altcoins. Source: What is Cryptocurrency: Everything You Need To Know
The decentralized control, instead of a centralised banking system, is achieved via blockchain transactional database, acting as a distributed ledger.
We can delve deeper into the actual mechanics of Bitcoin in a future article, however for now we just wanted to provide a little context around the newest financial instrument being introduced by Pepperstone Forex broker.
Why Trade Bitcoin with Pepperstone?
Traders can take advantage of Bitcoin's large movements and volatility, without the need for an existing Bitcoin wallet or having to purchase actual Bitcoins;
Receive institutional grade Bitcoin spreads & trade execution with no commission fees charged;
Access BTC to USD ("BTC/USD") easily from all of Pepperstone's trading platforms; and
Traders can hedge Bitcoin on a single Pepperstone account.
See our Cryptocurrency Broker comparison for more information on the cryptocurrency CFD offered and spreads for each crypto.

Risks of Trading Bitcoin
As with any leveraged trading, there is always risk to your capital as the the very nature of leverage means both the profits and the losses are magnified. Bitcoin is currently (2017) experiencing large volatility and movement in prices. While traders generally look for volatility to experience quicker price movement, if you are on the wrong side of the move, combined with leverage, this means not only is your capital is at risk but you can loose more than you have deposited.
Trading Bitcoin should therefore only be considered by experienced traders, who understand the risks involved and carefully read any PDS (product disclosure statement) and/or other offer documents provided by the bitcoin trading broker, in this case by leading Australian forex broker, Pepperstone Australia.