The foreign exchange market will often react to a forex news release or economic news announcements. Both major currency pairs and minor currency pairs are affected if the news event relates to one of the currencies in a currency pair. The forex market can display extreme volatility during these world and Australian economic news releases. It is therefore critical for all forex traders to be aware of upcoming key economic indicator announcements impacting the currencies being traded.
This easy to use and customisable real time Forex economic calendar covers all important events and releases that affect the foreign exchange market. The 'More' button allows users to filter by news event importance and currency symbol. This can also be used as an Australian economic calendar by simply selecting the More box on the news calendar below and only selecting the AUD symbol.
The calendar automatically updates when new economic data or news is released.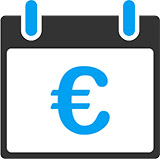 Financial Markets React To Economic News
When discussing an economic calendar we are looking at the scheduled announcements released by governments, central banks and independent bodies that are coming up. There of course can be unscheduled announcements that make currency markets move and sometimes change trend, however here we are discussing economic news and data reports that are released at set times. They can be released weekly, monthly, quarterly or annually, depending on the report.
If a data report is released and the actual figures are in line with what analysts expected, generally there is a minimal overall impact on the currency price movement. However, if the results reported are significantly different to analysts expected results, either up or down, rapid and volatile price movements can often occur as forex traders try to "price in" these unexpected new results.
In the Forex market, the biggest regular market-moving events tend to be the release of key economic data such as the US non-farm payroll numbers and central bank interest rate announcements. The easiest way to confirm the schedule of upcoming announcements is to view a forex economic calendar, as provided below.
Every Forex trader should check this daily before their FX trading session starts, so you're aware of key announcements that may be potential "surprises" or market-moving announcements relating to the currencies you're trading.
Live Forex News Calendar
IMPORTANT: Select your applicable time zone from the top of the economic calendar prior to viewing!



This real time forex news calendar only provides general information and it is not meant to be a trading guide. The real time Economic Calendar may also be subject to change without any previous notice.

If you have not yet chosen an online forex trading account, or Forex broker, please consider viewing our comparison of foreign exchange brokers to assist with your search.