Looking for a 100% Australian owned, multi-award winning DMA broker?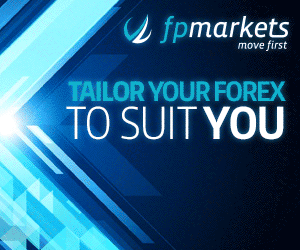 REVIEWER RATING
Why choose FP Markets (First Prudential Markets) as your broker?
FP Markets (First Prudential Markets Pty Ltd) is 100% Australian owned & operated. They have been providing traders with cutting edge execution technology, competitively priced ASX shares, true ECN Forex & direct market access (DMA) CFDs, through award winning trading platforms for over 10 years.
First Prudential Markets Pty Ltd (ACN 112 600 281) holds an Australian financial services licence (AFSL) No. 286354 and is regulated by the Australian Securities & Investments Commission (ASIC).
Client funds deposited with FP Markets are held in a trust account at National Australia Bank (NAB). The trust account is established, maintained & operated in accordance with the Australian Client Money Rules that are governed within First Prudential Markets AFSL 286354. Regular external audits are conducted by top tier firms including PKF.
Full market transparency with 100% Direct Market Access across all FP Markets DMA CFD products and STP ('Straight Through Processing') ECN Interbank Direct Pricing for on Forex accounts. With FP Markets' DMA CFDs it is not just equity CFDs that are DMA; it is the whole range of global products that are completely transparent including Asian, American, Australian and European Equity, Indices and Commodities CFDs.
The effect of Direct Market Access on your online trading is:

No dealer intervention between you and the markets. Therefore price and liquidity will be identical to the exchange, with no price re-quotes or order rejection during fast moving prices.
Trades are 100% hedged so orders flow onto the underlying market
Ability to participate in Open and Close market phases

It's important to compare "apples to apples" when looking at the spreads & fees of brokers offering 100% DMA on all CFD instruments offered. Providing direct access increases the operating costs of the broker because every trade placed by a customer is entered directly into the underlying market. Like most things in life, there are pros and cons to everything.
The pros of DMA trading are listed above and the "cons" (I use this term very loosely) are simply that it increases the operating costs of the broker. This naturally means their pricing structure for DMA CFDs will be a little higher when compared to CFD brokers that are NOT offering direct market access on all products. The key is finding the best match for your own trading style and requirements.
FP Markets provide excellent value for money when compared to their 100% DMA competitors.
FP Markets is one of the most highly awarded DMA CFD & FX providers in the industry. They have won awards from multiple independent rating groups. These rating firms include CANSTAR CANNEX (5 star rating), Investment Trends, Smart Investor, The Bull, and Money Magazine.
Award winning categories include:

Best Value for Money
Outstanding Value for DMA CFDs
Outstanding Value for Online Share Trading
Best Trade Execution
Awarded 'Highest Overall Client Satisfaction' for the last 5 years running from Investment Trends Australia CFD Report
5 star rating from CANSTAR CANNEX

The largest range of Australian share CFDs with full market depth available on over 2,000 ASX equity CFDs and margins from as little as 3%
Transparent, no 'last-look' True ECN Exchange model for direct Forex / STP FX trading. In laymen's terms this means the broker has no opportunity to re-quote, and is offering extremely reliable, fast and consistent order execution.
Quality trading research & education provided to clients, including trading guides, daily market report, follow Gary Burton's (Head of the Australian School of Technical Analysis) portfolio and live webinars to answer common client questions and to also provide an information portal for clients
For existing share holders, it's easy to transfer current CHESS sponsored accounts with no fees and charges
Free phone trading available, even when buying ASX equities (many stock brokers charge extra for buying or selling ASX shares via the phone). FP Markets do not charge additional commission for orders placed over the phone!
Excellent trading platform options with both the ultra low-latency IRESS Trader platform and MT4 trading platform
---
FP Markets (First Prudential) Review
Pros
- One of the best DMA CFD providers in Australia. 100% Direct Market Access (DMA) on entire CFD range of local & global markets, including Equity CFDs, Indices, Futures.
- Integrated offering for share traders & investors as you can access all ASX stocks and CFDs from one login on the one platform
- Transparent, no "last-look" true ECN exchange model for direct Forex / STP FX trading. ECN pricing on both FP Markets forex accounts
- Largest range of ASX share CFDs (over 2,000)
- Outstanding, multi-award winning customer support & overall client satisfaction
- Free phone trades (even when buying ASX shares)
- Fast IRESS Trader & MT4 trading platforms available
Cons
- Higher CFD pricing if looking for outright lowest costs. However, FP Market are 100% DMA so slightly higher costs is certainly not a "negative" aspect for traders wanting the very best direct access trading platforms
- Trading platforms may not be as easy to use as some other web platforms, however are extremely functional and reliable.
Summary
FP Markets are clearly specialists in DIRECT MARKET ACCESS trading!
In addition, they're a top quality, multi award winning, 100% Australian owned & operated CFD, Forex & stock broker, providing competitively priced
DMA
CFDs, ECN direct FX and ASX shares (CHESS sponsored) for over 10 years.
A key difference that First Prudential Markets offers for traders of all levels, is transparent pricing on EVERY product they offer. Our FP Markets review confirms if true direct market access trading is one of your requirements, it's important to know that their
entire
range of global CFD products is 100% Direct Market Access (DMA), not just CFDs on equities & FX as many other brokers advertising DMA, including
IG Markets
, only offer. In addition, the two Forex accounts offered (Raw ECN and Standard) are both executed via
straight through processing
(STP) & with ECN direct pricing.
First Prudential Markets are not suited to those looking for the outright lowest brokerage rates and trading costs... if you want the cheapest rates please view our
TradeDirect365 CFD review
instead. However, FP Markets provide excellent value for money when compared to their 100% DMA competitors (ie comparing
"apples to apples"
).
For customer service and overall client satisfaction FP Markets excel in this area.
This is highlighted by recently winning Investment Trends Australia CFD Report
"Highest Overall Client Satisfaction"
award for an impressive 5 years running!
For all the above reasons we highly recommend FP Markets (First Prudential Markets Pty Ltd) and proudly list them as one of our best CFD providers.
Please
click here to open a demo account now
and experience for yourself one of the very best DMA brokers in Australia.
Trading Platform Features
4.6
RISK NOTICE:
Direct market access CFDs & STP Forex are a complex, leveraged financial products and requires a certain level of experience, so may not be suitable for everyone. DMA CFD & ECN STP FX trading carries a high level of risk to your capital and can result in losses that exceed your initial deposit. Therefore, please ensure you fully understand all the risks involved. If you are considering acquiring any of the financial products listed on this FP Markets review web page, you should always read the Product Disclosure Statement (PDS) and other offer document/s before making any investment decisions.
If you are unsure of the risks, or have any doubt whether you have sufficient financial resources or experience to trade these products, you should take professional advice before trading.