This page supplements our main IG review, providing extensive detail on IG share trading for Australians.
IG is one of Australia's leading brokerage platforms, offering excellent service, an award-winning online trading platform# and some of the lowest fees in Australia. With IG, you'll have access to over 12,000 local (ASX) and international shares all from the one online trading account. The information below will provide detailed information for traders wanting to trade shares online with IG Markets.
QUICK LINKS: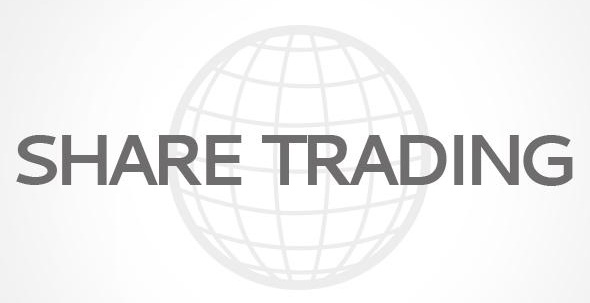 Trading Shares with IG Group (Australia)
Custodian Share Holding Model
Share Trading Fees
Dividend Payments
Available Stock Markets
IG Collateral Service
Risks of Trading International Stocks
Trading Shares with IG Group (Australia)
Trading shares is one of the more traditional investments many Australians trust and either directly or indirectly, via superannuation funds, participate in. It is well known that over very long periods of time, shares have provided superior returns to most alternatives such as cash or bonds. Therefore, shares / stocks are an important part of a diversified portfolio.
Profiting from movements in the price of shares is generally performed via one of the following two methods:
non-leveraged trading (share trading), and
leveraged trading (share CFDs).
This IG share trading review focuses on the more traditional non-leveraged online trading for Australians. IG actually offer both options and we suggest viewing our detailed IG CFD trading Australia review for more information on the leveraged trading via their share CFDs.
Custodian Share Holding Model
Before discussing prices, the trading platform or dividend payments, etc I want to make it clear that IG share trading operates on the custodian model of holding shares.
When trading stocks with IG, you are instructing them to hold any instrument bought on your behalf on trust until they receive further instruction from you to sell that instrument or transfer it into your own name or to another nominee. IG Markets Limited will be acting as custodian and will hold the Instruments on your behalf in accordance with the Governing Legislation.
As with any online trading platform, detailed records of all your Instruments and assets held by IG will be available to show that your Instruments are held in custody and in trust on your behalf, for your benefit and are not beneficially owned by either IG or any sub-custodian.
To clarify this further below is a quote from IG's website, as at 26th August 2019, explaining the arrangement:
When Share Trading with IG, shares purchased are held by Citi in a direct custody capacity.
Australian shares purchased through IG are registered in CHESS under Citicorp Nominees Pty Limited, with a CHESS Participant Identification Number (PID) 20018. They are held on the client's behalf by Citibank Pty Ltd.
UK and US shares are held by Citibank N.A.
German shares are held by Citigroup Global Markets.
The clients are the ultimate beneficial owners.
Source: IG Australia
Essentially, IG will act as your execution-only broker and will provide all share trading and investment services. They will also hold and administer your money and shares as custodian (also called a custodian bank).
IG Share trader Account Fees
IG offers a low cost brokerage service with an offering of over 12,000 local ASX shares and international stocks to trade. For example, you can trade Australian shares from as low as AU $8, UK shares from £10 and US stocks from US $10.
| Location | Commission per trade |
| --- | --- |
| Australia | AU$8 / 0.1% |
| US | US$10 / 2 cents per share |
| UK | £10 / 0.1% |
| Germany | €10 / 0.1% |
| Ireland | €10 / 0.1% |
Charges To Trade Australian ASX Shares
For Australian traders, IG share trading Australia fees breakdown is follows:
Purchasing or selling Australian (ASX) shares will incur a commission fee of just $8 per trade or 0.1 %, whichever is higher
There are no fees or charges to transfer shares to IG. If you are considering consolidating your shareholdings by transferring any existing shares to your IG account this can be done for free.
If you require phone trading services (ie placing your trade over the phone, rather than placing the trade online via IG's share trading platform) the charges are currently a minimum charge of $50 or 0.1 %, whichever is higher. This will be of no impact to anyone just wanting to place their trades online.
A quarterly $50 subscription fee may be charged to your share trading account depending on your trading activity in that quarter. Traders will be exempt from this charge if:

you trade at least three times across either of your share trading or CFD accounts during the quarter, or
have no open positions in your share trading account at the end of the applicable quarter. It is worth highlighting that as long as you have no open positions at the end of the quarter, you will not be charged a subscription fee regardless of whether you hold a cash balance on the account.
IG Share Trading Australia Fees Comparison Table
All figures displayed in the IG share trading comparison table below are based on one share trade of $ 5,000 in value.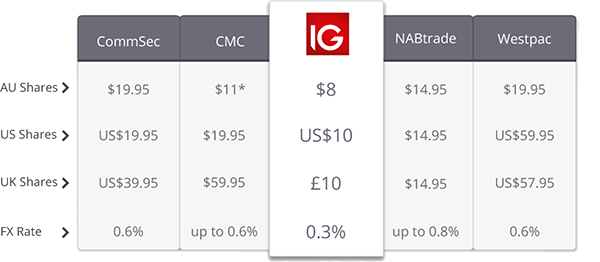 * CMC standard rates. FX conversion rates sourced from Westpac.com, Commsec.com and NAB.com and correct as at 11th September 2018.
How Are Dividend Payments Received?
A common question I hear for the custodian share dealing model, is how are dividend payments made on the IG share trading account?
The short answer is that you will receive the dividend payments direct to your IG account.
The slightly more detailed answer is, that the custodian broker will receive the dividend funds first, and then send them on to your own share trading account. This can take a few days, but once the cash has cleared, IG will automatically allocate it to your account.
Available Stock Markets
IG have a huge offering of shares to trade! Currently they offer over 12,000 shares from many of the largest financial stock exchanges in the world. From one account you'll be able to access the following stock market indices in local denominations:
Australia: ASX200, ASX300 plus many other small cap Australian shares
US: S&P500, NASDAQ100, DOW30 plus many other small cap US stocks
UK: FTSE100, FTSE250 plus many other small cap UK stocks
Germany: DAX, MDAX, HDAX
Ireland: ISEQ
IG Collateral Service
IG's collateral service allows customers use up to 95% of the value of their shareholdings as margin to cover CFD trades.
This service obviously needs to be used with caution, however with proper education traders can potentially protect their portfolio from falling markets by using short CFD positions.
 
To use the collateral service you will need both an IG share trading account and a CFD account.
Once you have both open, you can link your CFD trading account to your share trading account from within IG's web-based platform as follows:
Log in to My IG
Select 'Live accounts'
Then select 'Set up collateral'
Once linked, you can use a percentage of the value of your shareholdings as collateral to cover the initial margin on your CFDs. It is important to be aware that you can only use your shareholdings to cover the initial margin on CFD trades. Any running losses must be covered by the available cash in your margin account.
Risks of Trading International Stocks
There are several risks that I want to highlight, that some Australian share traders may not be aware of, that are specific to trading international shares with the custodial model.
Third Party and Regulatory Risk: As your international stocks are held by a custodian they are therefore subject to certain risks associated with the stock market or country of the custodian bank, in particular, political and regulatory risks.
Currency Risk: As international shares will be denominated in the currency of their home country, changes in the share price value against the Australian dollar (AUD) can affect the total gain or loss on the investment when it's converted back into Australian dollars.
Tax Risk: It is recommended that you seek independent professional taxation advice when investing in international share markets as investment returns from overseas may be treated differently to Australian investments.
IG Australia Share Trading Review and Ratings
IG is not only Australia's largest CFD provider, but also the world's largest CFD broker, winning several industry awards over the past few years. IG Australia now offer two styles of equities trading for Australian residents, non-leveraged trading (share trading), and leveraged trading (share CFDs).

This share trading review has focused on the more traditional non-leveraged share trading account via a custodian share holding model. IG offer very competitive pricing, an award winning platform and detailed client money protection measures.
Please read our complete IG Markets Australia broker review for full analysis of this world leading online broker and who they may be best suited to.
IG Rating: 4.4 out of 5
Reviewed By: Stuart Young
Review Date: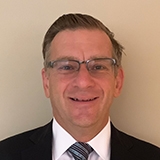 Latest posts by Stuart Young
(see all)
# "Award winning platform" references IG as the winner of the Best Trading Platform 2017 award – Online Personal Wealth Awards