Trade foreign exchange with an Australian regulated ECN Forex broker

REVIEWER RATING
This Forex broker review covers the Australian ECN broker,
Vantage FX
. I'm excited to include a Vantage FX review, comparing their standard STP vs Raw ECN forex accounts, as they have some unique differences to other Forex brokers.
In addition, VFX offer the ability for active Forex traders to earn 8.88% interest on available account balance.
We also have an exclusive bonus only available to referrals from Online Brokers Australia
. I therefore wanted to include a review of their offerings and help illustrate who
Vantage FX
may be most suited to.
Vantage FX Review
Pros
RAW ECN account commission only $3.00 with competitive raw ECN spreads
Standard account runs STP processing and a transparent Forex rebate program… get 10% forex rebate credit from your own trades!
Free Smart Trader Tools package which definitely improves the MT4 platform
Active traders can earn 8.88% interest on account balance
Forex traders using EAs with Virtual Private Server (VPS), can get their monthly VPS costs reimbursed
Non-expiry demo account for live account holders
Excellent customer service
EXCLUSIVE OFFER: Receive a $100 AUD credit in your account when you open a live account via our links.

Click here to open a live account and claim $100 bonus now!
Cons
Does not offer CFDs on equities. This will not be an issue for traders if they don't require stock/share CFDs
MT4 trading platforms may not be as easy to use as some other web platforms, however is extremely stable & functional. All funded accounts also receive free access to the SmartTrader Tools Package which enhances the MT4 platform.
Summary
Our Vantage FX review has revealed a great all-round, award winning ECN / STP Forex broker. Their
pricing is very competitive, excellent customer service and execution combined with a good range of ECN Forex and DMA CFDs
.
Active Forex traders can also earn 8.88% interest on their account balance... just meet the monthly volume target and you get cash interest into your trading account. This is a unique offering amount Forex brokers!
For trading platform options, Vantage FX currently have only the MT4 trading platform available for Forex & DMA CFD trading, however provide the excellent
Smart Trader Tools
package to all clients with a live funded account, which provides significant upgrades and improvements to the MT4 platform.
There are a large number of deposit methods available and Vantage FX withdrawals are performed by completing an online form, which if received prior to 12:00 AEST (02:00 GMT), normal procedures will see that the withdrawal request is processed on the same business day.
We are proud to list Vantage FX on our site as they are suitable for traders of all levels from beginners through to professional traders and highly recommended.
Don't forget our
EXCLUSIVE OFFER:

Receive a $100 AUD credit in your account when you open a live account via our links.
Click to open a live account and claim $100 bonus credit when you click through our links!
Trading Platform Features
4.5
---
Why choose VantageFX Australia as your Forex broker?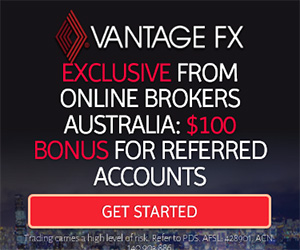 Vantage FX is a Forex ECN broker with great customer service and low cost trading.
This is combined with high quality execution, reliable trading infrastructure, and the ability to earn interest on account balance (T&Cs apply) makes for a great trading experience.
Vantage FX spreads are very tight and on the ECN account have a commission of just $3.00.
See our Forex Account Comparisons to see how their FX accounts compare to the competitors.
Australian regulated.
Vantage FX Pty Ltd (ACN: 140 903 886) is a Corporate Authorised Representative of Vantage Global Prime Pty Ltd (AFSL 428901) Representative Number: 343547.
Vantage Global Prime Pty Ltd (ACN: 157 768 566) holds an Australian financial services licence (AFSL) No. 428901 and is regulated by the Australian Securities & Investments Commission (ASIC). They are an Australian online broker with headquarters in Sydney, Australia and audited by Walker Wayland.Vantage FX Pty Ltd is a member of the Financial Ombudsman Service (FOS) complaints resolution scheme and their membership number is 14926.
In addition to the regular licensing requirements of ASIC regulated foreign exchange brokers, Vantage FX's indemnity insurance is provided by a consortium with specialist insurance group Lloyd's of London, generally known simply as Lloyd's, and XL Catlin
The benefits are that the insurance would cover some unforeseen business risk Vantage FX might face and therefore helps to increase the stability of Vantage FX
Vantage FX deposits all client funds in Segregated Client Trust Accounts with the National Australia Bank (NAB). Vantage FX cannot use client funds for any business purpose, they are kept on trust for clients and segregated from the business, however client money can be used to maintain margin that is needed to cover positions opened by clients
While Vantage FX is primarily a specialist forex broker, they also have a key range of products in addition to Forex. At the time of writing this review (November 2016) VantageFX's range of instruments include:

40 Foreign Exchange (FX) Pairs
8 Major Global Stock Index DMA CFDs (including ASX S&P 200, DAX 30, Dow Jones 30, US S&P 500)
5 Metals Commodity DMA CFDs (spot Gold, Silver, Platinum, Palladium & Copper)
4 Energy DMA CFDs (Crude Oil, Natural Gas, Gasoline & Heating Oil).

All the above instruments are available in MT4, WebTrader and mobile trading apps.

Standard STP account runs a transparent Forex rebate program… get 10% forex rebate credit which you can convert to cash live as you trade
Vantage FX have a unique offering that will particularly suit active Forex traders with larger account balances. Just meet the monthly volume target and you get cash interest of 8.88% per annum into your trading account. This is a very unique offering among Forex brokers!

Please refer to the table below to see the required volume traded to receive the 8.88% interest on your account balance…

The interest payment is calculated based on the FX accounts end of month Free Margin applied with the rate of 8.88% per annum. Payments are calculated after the end of the month and paid directly to the clients MT4 trading account by or around the 15th of the following month.

All funded accounts receive FREE access to the SmartTrader Tools Package. The SmartTrader Tools Package takes the Vantage FX MT4 platform to a higher level than the standard MT4 platform many foreign exchange traders would be used to. Best trading platform upgrades include:

Alarm Manager – Receive alerts via SMS, email, pop-up, sound, or broadcast to Twitter. Automatically trigger market or pending orders, close some or all trades based on Alarm Manager rules and triggers
Correlation Matrix – The Correlation Matrix shows the correlation between a grid of selected symbols from the Forex, Commodities and Indices markets, over a configurable timeframe and number of bars. The Trade List button shows the average correlation, and also marks any symbols which have strong correlation with another symbol on the list
Correlation Trader – The Correlation Trader shows the correlation between trading symbols over a configurable timeframe, e.g. recent H1 bars. Traders can also open and close orders, place stop loss and take profit orders, in both hedging/non-hedging mode, directly from your charts
Excel RTD App/Link – In simple terms, this platform upgrade lets you do two things… 1) Put real-time data into Excel using just Excel's RTD() function and 2) Send simple trading commands from VBA code in Excel. The app is supplied with an example spreadsheet which lets you enter up to 5 trading account numbers, and then automatically displays a dashboard of equity and account balance etc; symbol prices; and a consolidated list of open positions
Market Manager – If you've ever wanted to edit the MT4 market watch panel, this one's for you… now forex traders can completely customise it with full control over your order activity and symbol watch-lists all from one convenient window. This MT4 add-on does four main functions: a "watch list" of open positions & symbol prices, headline account information, all open tickets and graphical summary of recent price activity.
Mini Terminal – Designed for active FX traders who require speed when entering and exiting positions in the market. This upgrade brings the added flexibility of trading complex order types, including OCO orders, with a single click. Sophisticated currency traders can multitask multiple positions from a single MT4 frame. For traders who like trading directly from a chart, the Mini Terminal also allows this functionality!
Sentiment Trader – See the general trading sentiment mood & directions of all your symbols quickly right from your MT4 trading platform. This MT4 upgrade displays information about current and historic long/short sentiment: the percentage of traders who currently have (or had) an open buy or sell position in a symbol. The figures displayed are calculated from real-money accounts which are being published to FX Blue (previously named MT4i | www.mt4i.com)
Session Map – The Session Map shows your current local time in relation to forex "sessions" during the trading day, i.e. the core trading hours when institutional dealers are most active in Sydney, Tokyo, London and New York. It also shows markers for future forex news events; information about your floating P/L and equity; and price activity during each trading session
Trade Terminal – An advanced trade execution and analysis tool for fast scalpers. In essence it is a sophisticated one-click trade manager with a plethora of built-in functions. This MT4 update is probably not suited to all traders but certainly valuable for traders looking for an institutional grade tool for quick trading! Includes quick access to all orders (opening and modifying existing trades), create templates commonly used complex order preferences, trade & risk calculators, analysis functions, alerts and much more.

Comprehensive user guides, 4 to 10 pages each, are provided for each of the above MT4 trading platform upgrades.
The SmartTrader Tools Package for MT4 is FREE for funded live accounts (minimum of $1,000) at Vantage FX.

Non expiry demo account available to a live account holders – great way to sharpen your trading skills for free without constant subscribing to new demo after 30 days
Anyone who trades using EAs and runs a VPS can get their VPS costs reimbursed up to $50 AUD per month. Traders must trade a minimum of 10 standard FX lots round turn per month on your Vantage FX standard account or 20 standard FX lots round turn on a Vantage Pro Trader account to obtain this free service
For clients who like to trade Social, Vantage FX offer Myfxbook and ZuluTrade
Daily Markets updates from Dane Williams
Great variety of account funding options including:

Credit / Debit Card (Currencies Available: AUD, USD, CAD, EUR, GBP, SGD, NZD & JPY). Please note that all NAB Transact payments (MasterCard & Visa payments) will incur a fee
POLi – Instant Bank Transfers (Australia Only – AUD)
Bank Transfer – Domestic (AUD) & International (Currencies Available: AUD, USD, CAD, GBP, EUR, SGD, NZD & JPY)
BPay (Australia Only – AUD)
Skrill Moneybookers (Currencies Available: USD, EUR & GBP)
Neteller (Currencies Available: AUD, USD, EUR, GBP & SGD)
B2B – Broker to Broker (Currencies Available: AUD, USD, EUR, GBP, SGD, NZD & JPY)

Vantage FX do not charge internal fees on deposits or withdrawals. Please note however, payments to and/or from international banking institutions can attract intermediary bank transfer fees, which are independent and out of the control of Vantage FX brokers.

Clients can withdraw funds easily online by following an easy Online Withdrawal Procedure.
For withdrawal requests received prior to 12:00 AEST (02:00 GMT), normal procedures will see that the withdrawal request will be processed the same business day. If your request is received after 12:00 AEST (02:00 GMT), or is received during periods where there are higher than expected withdrawal volumes, Vantage advise your request will be processed the following business day
Vantage FX, sometimes also referred to as VFX, has received many industry excellence awards from 2011 onwards, including for best ECN / STP Forex Broker, Client Service and best Forex execution. Examples of these awards include:

Winner: Best ECN Broker 2015 & 2016 – TheForexAwards.com
Winner: Best Customer Support, 2016 – TheForexAwards.com
Winner: Best Forex Broker & Forex Execution – South East Asia – DealMakers Annual Banking Awards, 2012
Recommended for Forex – Financial Review Smart Investor (Australia's leading investment magazine) Blue Ribbon Awards, 2011

EXCLUSIVE OFFER: Receive a $100 AUD credit in your account when you open a live account via our links. Click here to open a live account and claim $100 bonus now!
Compare Forex Trading Accounts
Vantage FX have 2 account types available.
The Standard STP trading account is a good solution for MT4 platform traders and includes rebates, tight spreads and STP (straight through processing) trade execution.
The Raw ECN trading account is ideal for high volume and EA forex traders as it offers good raw ECN spreads, ECN trade execution and extremely low $3.00 commission per standard FX lot (industry average is normally $3.50).
Compare between Vantage FX's Standard STP vs RAW ECN style Forex trading accounts below.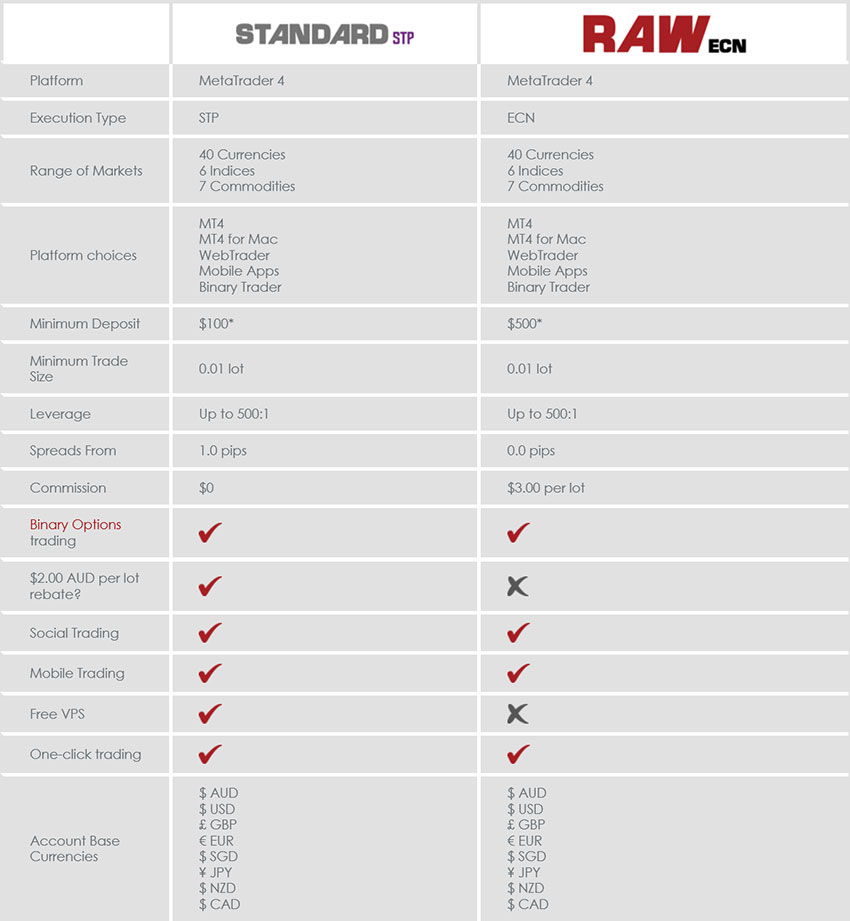 If you feel that Vantage FX Australia may not have all the features you're looking for, please view our additional forex broker reviews and comparison tables.
RISK NOTICE:
Foreign exchange (Forex / FX) and derivatives are complex, leveraged financial products and requires a certain level of experience, so may not be suitable for everyone. Derivatives and
Forex trading
carries a high level of risk to your capital and can result in losses that exceed your initial deposit. Please ensure that you understand all the risks involved. If you are considering acquiring any of the financial products listed on this Vantage FX review web page, you should always read the Product Disclosure Statement (PDS) and other offer document/s before making any investment decisions. This Vantage FX review was conducted independently, however VantageFX or it's foreign exchange products (ECN forex and standard forex CFD) may not suit your personal objectives, financial situation or needs.
If you are unsure of the risks, or have any doubt whether you have sufficient financial resources or experience to trade these products, you should take professional advice before trading with Vantage FX Pty Ltd.