TradeDirect365 review reveals lowest fixed spread CFD provider in Australia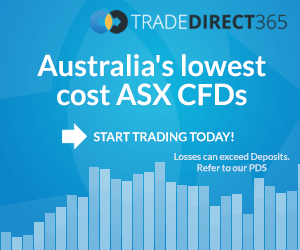 REVIEWER RATING
Why choose TradeDirect365 as your CFD broker?
The review of TradeDirect365 has shown they are a strong challenger brand to the established CFD providers by giving Australian contract for difference (CFD) traders a better choice, lower cost and more efficient CFD trading. They are the stand-out lowest fixed spread forex & CFD brokerage firm in Australia.
TradeDirect365 was developed by well respected, professional Australian trader Davin Clarke. It came into existence because he was sick of being charged wide and variable spreads, excessive commissions and unnecessary fees.
In an industry where obscure fees (eg inactivity fees), exorbitant overnight raising of margin requirements and manipulation of prices can be the norm, TradeDirect365 is certainly one that bucks the trend!
TradeDirect365 hold all client funds on trust with Westpac (a tier 1 AA rated Australian bank), on a fully segregated basis and do not use client funds for hedging purposes.
Transparent cost with 24 hour fixed spreads – which means that whatever the CFD market is doing, your bid-ask spreads don't change.
MT4 platform option now available with institutional FX spreads and some of the lowest European index spreads available anywhere! This is a fantastic feature mix and is certainly cheaper than their competitors (

those trading the DAX and FTSE index MUST check out TradeDirect365's fixed spread rates on these very popular indices

).
From your TradeDirect365 CFD account, you'll have access to Australian (ASX), US, European and UK share CFDs, global indices, global currencies and a range of commodities.
The TD 365 web trading platform was designed with simplicity and ease of use in mind, while not losing functionality.
Opening a trading account with TradeDirect365 is very easy. It literally takes a couple of minutes and they won't make you jump through a whole lot of hoops to do it. Opening a demo account is simply 1 click, it couldn't be any easier.
Just $25 minimum amount required to open an account
Licensed CFD and FOREX broker in Australia. TradeDirect365 Pty Ltd is a registered trading name of Finsa Pty Limited (ACN: 158 065 635) which holds an Australian financial services licence (AFSL) No. 422661 and is regulated by the Australian Securities & Investments Commission (ASIC).
Standout pricing & features for ASX CFD, Forex and index traders …
Lowest ASX share CFD commission at only $5 or just 0.07% once trade value above $7,150
This is 30% cheaper than IG Markets, which is listed as Australia's largest CFD provider
ALL listed ASX share CFDs (over 500) can be traded short.
Lower margin requirements on all ASX CFDS starting from just 5% and the highest margin rate at only 30%. (Source: TradeDirect365 ASX CFD Margins and GSLOs document)
ASX Data fee is AU$27.50 per calendar month. This data fee is fully rebated if you make 4 single leg trades (or 2 round turn trades) on any ASX share CFD within a calendar month.
Web platform has tight 24hr fixed spreads, with NO commission, on FOREX (eg fixed 0.8 pip AUD/USD)

Some of the best spreads I've ever seen on a variety of instruments

, such as Germany 30 fixed at 1 point, UK 100 fixed at 1 point and, FX ECN spreads from 0.1 pip with a commission of just 30cents per mini contract ($10,000) or $3 per full size FX contract ($100,000)! Micro lots also available.
Review of TradeDirect365's Key CFD Trading Advantages

TradeDirect365 provides two platform options… the easy to use TD 365 web trading platform plus an MT4 platform option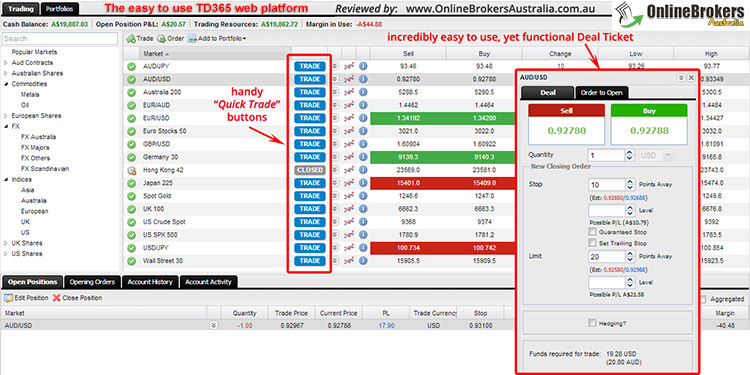 ---
TradeDirect365 Review
Pros
Low cost CFD broker ... including Australia's lowest cost ASX share CFDs!
Extremely tight 24 hour FIXED spreads on the majority of instruments (including Indices, Commodities and Forex CFD)
Lowest live ASX data fee at $27.50/month which is waived after just 2 round trips, or 4 single legs, traded on ASX CFDs in a calendar month
Excellent choice for equity CFD traders as their ASX CFDs have low average margin requirements, bid-ask prices match the underlying ASX shares, and all ASX share CFDs offered (over 500) can be traded short
Easy to use web trading platform that is great for beginners and experienced traders (& MT4 option)
TradeDirect365 does not use client funds for hedging purposes
Founder is one of Australia's most respected professional traders, Davin Clarke.
Cons
Charts are not as feature rich as other platforms, however we have been advised that new, full html5, charting package being implemented in near future
Although great instrument range, does not have options or "exotic" instruments. This won't be an issue for most traders.
Summary
Our TradeDirect365 review has finally uncovered a top quality, Australian regulated, CFD broker with fair, simple and low cost online CFD trading platforms (the easy to use TD 365 web platform and an MT4 ECN platform option). TradeDirect365 particularly excel in fixed spread contracts for difference (CFDs) segment with
incredibly tight fixed spreads on the majority of their products
!
Founded & developed by the highly respected professional trader, Davin Clarke,
Australia's best value CFD provider
has just got even better with the inclusion of an MT4 trading platform option. Trade FOREX on the leading MT4 platform with institutional FX spreads.
TradeDirect365 is an
excellent choice for index traders
as their TD 365 web platform offers extremely tight fixed spreads like the Australia 200 index FIXED at just 0.9 and for European index traders, the MT4 platform offers some of the lowest European index spreads available anywhere! For example, trade European indices such as the Germany 30 (DAX) fixed at at 1 point and UK 100 (FTSE100) also fixed at 1 point.
TradeDirect365's Australian Securities Exchange (ASX) share CFD offering is also excellent and will please equity CFD traders for the following reasons:
Lowest ASX CFD commission at only $5 or just 0.07% once trade value is above $7,150
No dealer spread and the bid-ask prices match the underlying ASX shares
Lower average margin requirements on all ASX CFDs, starting from just 5% and the highest margin rate at only 30%
Traders can take a long position or short position on ALL listed ASX share CFDs (over 500), as they are all shortable.
TradeDirect365 broker is not suited to those looking tightest Forex raw ECN spreads, they instead specialise in the cheapest fixed Forex market spreads of all brokers compared, however if you want the tightest ECN spreads, please view our
Pepperstone
review instead.
TradeDirect365 are highly recommended with an easy sign-up process, very easy to use web platform (TD 365), MetaTrader (MT4) option available, and the tightest 24 hour

FIXED spread

CFD & FX trading rates, bar none!
Suitable for traders of all levels from beginners through to professional traders.
Trading Platform Features
4

RISK NOTICE:
Contracts for Difference (CFDs) are a complex, leveraged financial product. They require certain levels of experience and therefore might not be appropriate for everyone.
Trading CFDs
carries a high level of risk to your capital and can result in financial losses which may exceed your initial deposit. Please ensure you understand all the risks involved.
If you consider opening an account, or obtaining any of the financial products listed on this TradeDirect365 review web page, you should always read the Product Disclosure Statement (PDS) and other offer document/s before making any investment decisions. If you are unsure of the risks, or have any doubt whether you have sufficient financial resources or experience to trade these products, you should take professional advice before opening any opening a CFD trading account with TradeDirect365.