DMA stands for Direct Market Access and is also referred to as 'L2' or Level 2 trading. Not all CFD providers offer direct access trading however IG Australia do. IG Markets DMA enables CFD traders to trade the same market prices and order depth of the underlying markets without owning the physical asset. Instead, the trader receives a CFD (contract for difference) from IG allowing them to realise the same gain or loss as if they owned the underlying asset. However, they are only required to put down a smaller amount of the capital via margin (generally starting from 0.25% for forex, 1% for indices and from 5% on shares) to open the CFD trade.


Benefits of DMA CFDs for Traders
DMA if often preferred by CFD traders as they can gauge the market's true liquidity and pricing (as the best bid and offer price available for the particular market will be displayed and liquidity). Greater transparency is also a benefit both in market depth (seeing the order flow) and pricing, as bid offer spread will be exactly the same as the underlying market (eg ASX shares or US dollar).
A direct CFD trade can also be placed inside the market spread, potentially making for tighter fill than would be offered with a standard over-the-counter (OTC) that offers only market made prices (market maker pricing model).
Please note if you prefer non-leveraged share trading, instead of DMA share CFDs, then please view our detailed IG share trading review page.

Direct Market Access Trading Platforms at IG
IG DMA is available on a choice of two different direct access trading software depending on your experience level:
IG's own proprietary easy to use web-based platform and mobile trading apps; or
Level 2 Dealer dedicated DMA trading platform
IG Markets Web and Mobile Platform
In order to get Level 2 access through IG's regular platform you must activate the "DMA Equities" option on your existing CFD account. Navigate to the Settings >> Preferences page of your IG "My Account" section and activate DMA.
IG's only requirement for direct market access is that your CFD account balance is greater than $2,000 and that you update your subscribed data feeds to receive Level 2 pricing (L2) data from the exchanges you wish to trade.
Once the above steps are completed, the market depth in terms of orders to buy and sell at the various prices will be displayed direct on the deal ticket, as shown below: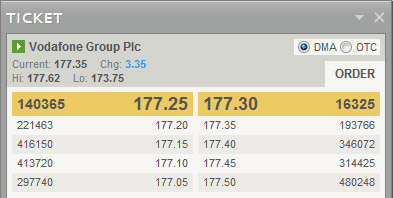 Remember there are no re-quotes either as you are trading direct into the market!

IG Level 2 Dealer DMA
IG offer direct access trading on the forex and share markets via their L2 Dealer trading platform.
Level 2 Dealer is a specialist DMA platform that is completely separate from the standard IG web platform and requires installation on your computer. This platform does everything the IG web account does, however adds the sophisticated IG toolkit level 2, which is a range of additional trading tools and features many experienced DMA CFD traders look for. Placing orders is very quick with one-click trading and ladder trading available.
There are also no re-quotes as you are direct in the market!
To start direct access trading on the specialist Level2 Dealer software, simply:
Open an IG CFD account
Complete the L2 Dealer registration form in your My Account section
Download and install the L2 Dealer platform
Full IG Review and Ratings
IG is not only Australia's largest CFD provider, but also the world's largest CFD broker, winning several industry awards over the past few years. They are the longest established CFD provider in Australia, offering CFD trading to Australian traders since 2002. IG Australia (ex IG Markets Australia) offer direct access trading (DMA) with two of their leading platforms. The easy to use standard web IG trading platform and their specialist DMA platform, L2 Dealer.
Please read our complete IG review for full analysis of this world leading CFD broker and who they may be best suited to.

IG Rating: 4.4 out of 5
Reviewed By: Stuart Young
Review Date: